Happy New Year! An unforgettable year that 2016. I make no resolutions but I will continue my search for understanding, while promoting it every chance I get, through my creativity. I wish you all a 2017 full of positive changes, opportunity, growth, prosperity and understanding.
   So I've been doing a little writing. After years of answering email questions about creativity, and a long time of going back and forth with this, I've decided to publish a Q&A section in my online journal. The questions come from budding artists or students who email me to ask for advice on creativity, art and even real life stuff. In addition to responding, I'd share some of the answers on my FB page, where they always were well received by other creatives and fellow artists. In the new year decided to openly share with others who might find the platform beneficial to them. Here are the first entries answering questions which actually came from a couple of you guys, via this monthly email. So thank you and keep the questions coming. I'm actually digging this blogging thing! Check it out!   New Work (Last work of 2016)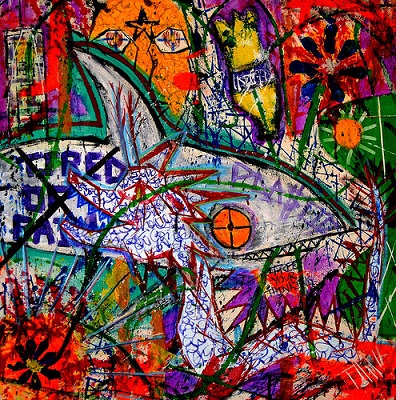 The Great White Shark & It's New Master, The Dragon - 2016   I'm already at work and looking forward to the artwork that the new year will bring. I can tell you that I'm falling into a deep abstraction and experimenting me more abstract heads.   Stay in touch! Best, Franck PS Still running test prints of Pop Abstracto 09 series. Get 'em while you can!