Excited to see my piano be part of this. Hope you all can make it! 
You're Invited to The Sixth Anniversary of the Largest Annual Public Arts Project in the United States.

Sing for Hope is bringing its renowned Sing for Hope Pianos back to the streets of New York City this summer. From June 5-25, as a celebration of the work Sing for Hope does in communities year-round, 60 Sing for Hope Pianos will be placed in parks and public spaces in high traffic locations across all five boroughs in New York for anyone and everyone to play.   Jon Batiste, Sing for Hope Board Member and Late Show with Stephen Colbert Bandleader, will perform and subsequently lead the 60 pianists, seated at the Sing for Hope Pianos, in a unison rendition of Bach Prelude in C.  
WHAT: SING FOR HOPE PIANOS UNVEILING EVENT
WHEN:  Monday June 5, All-day event (Batiste performance 12PM)
WHERE: 28 Liberty Street, NY, NY   The 2017 Sing for Hope Pianos have been designed by artists including Kate McKinnon, Roberta Flack, Billy the Artist, the Broadway casts of Aladdin, Beautiful, Cats, Chicago, Lion King, Phantom of the Opera, School of Rock, Waitress, and Natasha, Pierre & The Great Comet of 1812 — and many more.

The special public unveiling of all pianos will take place on June 5th at Liberty Plaza with special pop-up performances from Sing for Hope artists throughout the day-long event.   The 2017 Sing for Hope Pianos are made possible by the support of Fosun Group, 28 Liberty, and the Sing for Hope's Founders' Circle, including The Arnhold Foundation in loving memory of Sissy Arnhold, The Thea Petschek Iervolino Foundation, The Anna-Maria & Stephen Kellen Foundation, and Ann Ziff. For a full list of SFH Piano locations, visit www.singforhope.org/pianos.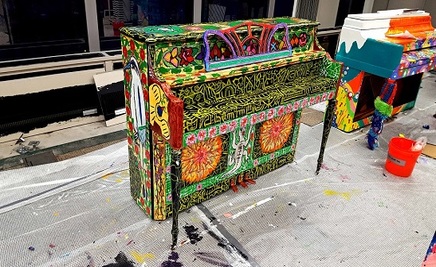 Piano by artist Franck de las Mercedes