Wishing each and everyone of you a happy holiday season and  a new year filled with health, happiness, success and a world with much needed understanding. At the end of this email, you will find a little gift from Nicola, Luca and I. Free Coffee! As always I thank you for the gift of your friendship and patronage. Enjoy!  
Art Exhibit in NYC. CITY LIMITS: Inside, Above, Within.
Curated by Alexis Mendoza Curatorial Projects & Marie Laux
Thursday, December 7 at 6 PM - 9 PM
El Barrio's Artspace PS109
215 E 99th St, New York, New York 10029
Featuring works by Carlos Barberena – Carlos Chacín – Yunuen DÍaz – Dolores Furtado
Bairo Martínez Parra – Franck de las Mercedes – Bernardo Navarro Tómas and Rocío Olivares.
The documentation of city changes and the domestic life has always fascinated artists for generations in the past. From the moment cities start chapping artists often depicted the physical and social realities, as well as the potential emotional disconnect, that can accompany urban density. In recent decades, artistic focus shifted to the ramifications of climate change, localism, gentrification, relocation and globalization. The exhibition explores urban representations from cities such as: Medellin, Havana, New York, Chicago, Santiago de Chile, Paris, Mexico City, Managua and Buenos Aires. "City Limits", encourage audiences to think about urbanism in a larger context and coincides with collective efforts to enliven and transform our way of living.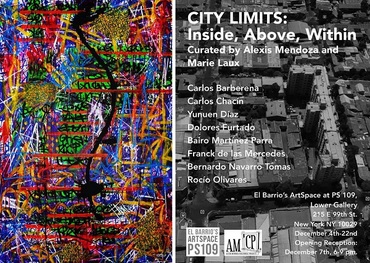 Introducing The N u d e Studies: This is a never before seen series of abstract figuration and self-portrait studies, the artist has produced since 2014. The work is noted for its intensity and its raw gestures. Abstracted, sculpture-like body shapes with expressive black line  painted with palette knives that characterize the artist's signature style. The series is available at the official shop.  These works on paper make great artful gifts and they are a great to start or continue your FdlM collection.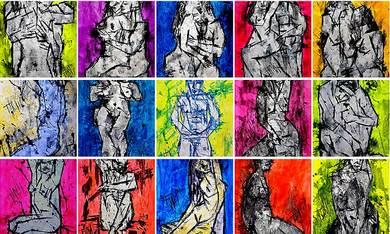 Free Coffee: Hot Coffee - 2017 Printable digital file or signed print of an original FdllM palette knife drawing -  We hope you enjoy it!
Click here to download digital.
Click here for a free print signed by the artist. (First come  - Just a few available)